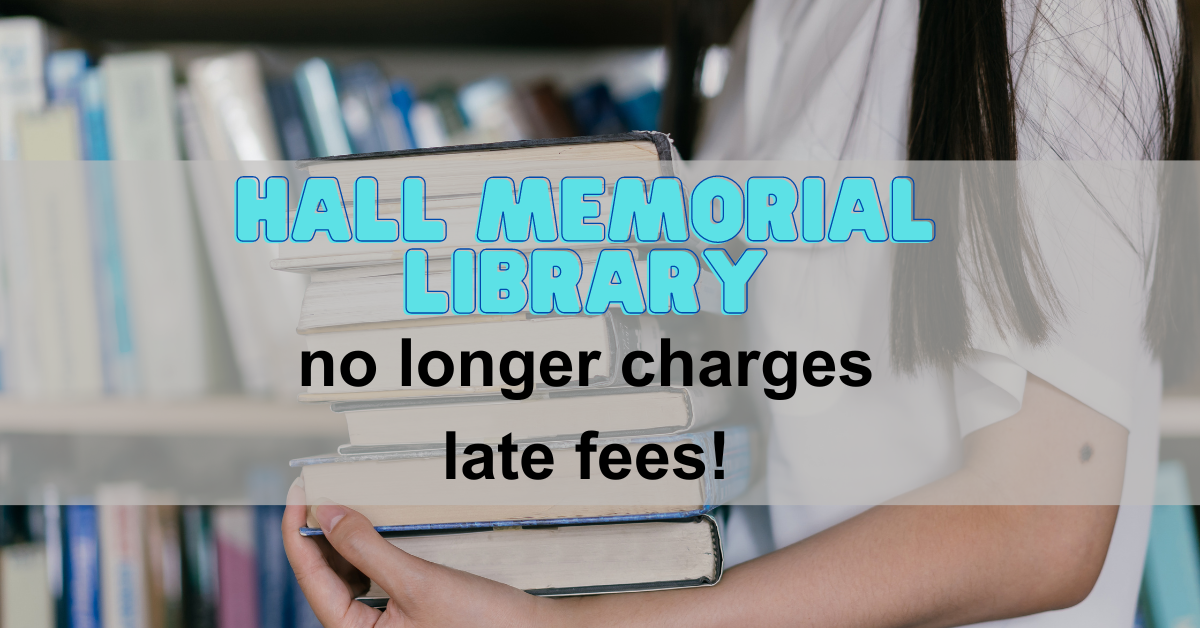 Hey there, Awesome Library Patrons!
Life happens, and we get it! That's why we've got some exciting news to share with you—Hall Memorial Library is officially waving goodbye to late fines! 🎉 Yep, you heard that right, no more worrying about overdue book fees or feeling guilty for that movie that got lost under your couch cushions.
We've been listening to your stories, and we understand that life can get pretty hectic. Between work, school, family, and everything in between, returning library materials on time isn't always at the top of the list. But fear not, because we're here to make your library experience even better!
Starting today, you can check out books, movies, music, and more without the fear of racking up late fines. We want you to think of the library as your second home—a place where you can relax, learn, and explore without any added stress. So, if you've ever been hesitant to swing by the library because of those pesky fines, guess what? You don't have to be anymore!
But wait, there's more! We're not just about books (although we do love them), we're also the place where your community comes together. From crafting workshops to book clubs, from coding classes to movie nights, we're here to offer you a little bit of everything. If you haven't had a chance to join us for one of our fun events or discover our digital resources, now is the perfect time to dive in.
However, a quick heads-up: we'll still be charging for lost or damaged items. So, while you're welcome to dive into that thriller or cozy up with a movie, we kindly ask you to treat our stuff with love and care. That way, others can enjoy them too.
This is a big step forward for the library, and it's all thanks to you, our incredible community. We're on a mission to make the library the heart and soul of our community where everyone can come to connect, learn, and explore. Your ideas and dreams are welcome here, and we're excited to be on this journey with you.
If you ever have questions, suggestions, or just want to chat about your latest read, don't hesitate to reach out. We're here for you, and your feedback means the world to us.
So, welcome to the fine-free era at Hall Memorial Library! Swing by, say hello, and enjoy everything we have to offer. We can't wait to see you, your family, your friends, and anyone else you want to bring along to share in the library magic.
See you soon!
Brittany Shanahan